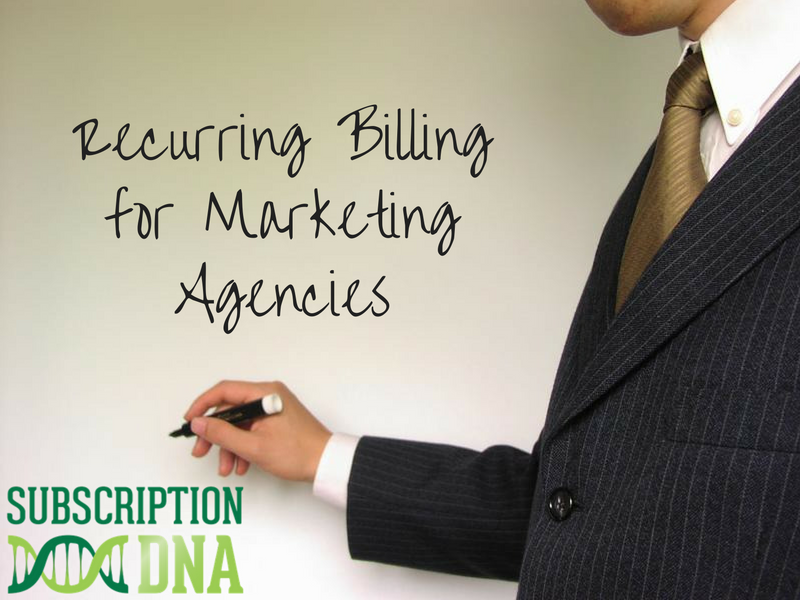 The Internet has completely revolutionized the marketplace as we know it, for industries as diverse as media, tourism, hospitality, and just about everything else under the sun. This has meant a proliferation of competition as the web allows more and more players onto nearly every field. And, with increased competition comes an increased need to set oneself apart. That means marketing. A lot of it.
All of which is to say: If you're in marketing, there's plenty of business out there for you to seize. It also means there's a glut of competition for you to face yourself.
Edging out the competition in the marketing industry, of course, is largely about marketing yourself better than the rest. But on top of that, it's about streamlining your own internal processes so that you can focus as much energy as possible on delivering the best results possible to your clients.
That's where Subscription DNA's cloud billing platform comes into play.
What is Subscription DNA Recurring Billing Software for Marketing Agencies
Subscription DNA is a cloud-based enterprise platform that offers robust tools for recurring billing, subscription management, premium content management, group communications, and more. Whether you're a traditional marketing agency, a digital startup, or anything in between, Subscription DNA can help to streamline your billing and invoicing processes and so much more.
Recurring Billing
Automate billing and generate invoices with ease with Subscription DNA's automated payment features. Features include:
Support for multiple payment methods including credit cards, cash, checks, PayPal, and more
Tools for taxes, fees, and VAT to keep the books in line
Custom billing frequency which allows you to set the terms on which each client is billed according to preference and need
Support for one-time payments and virtual terminals – billing doesn't have to be recurring; take one-off jobs or sell services on your website with a custom virtual terminal
And more!
Group Enrollment and Membership Management
With Subscription DNA's group enrollment and membership management tools, you can keep all of your clients' information in one place, easily communicating new services or announcements, in addition to offering registration for value-adding seminars and other events.
The Benefits for Marketing Agencies
The benefits of all these tools is simple: You save time on boring chores like invoicing, accounts receivable, and communicating with clients, freeing you up for the nitty-gritty of the marketing game. Not to mention, it might save you a few bucks on payroll if you no longer need a dedicated employee in charge of billing!
If you're interested in learning more about Subscription DNA's recurring billing platform for your marketing agency, get in touch by using the form below. DNA is a scalable, customizable platform that can be catered to your business's needs. Contact us to learn more!