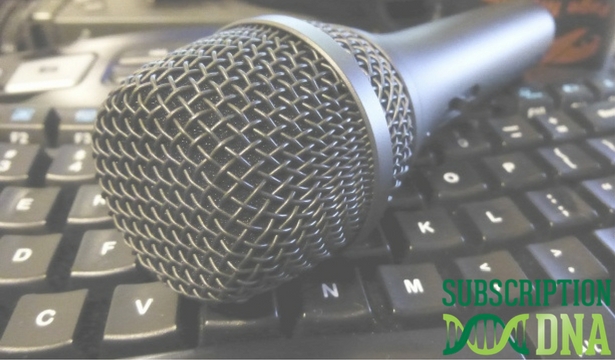 If you're like most people these days, you probably listen to a fair number of podcasts. From commuting and doing chores to hitting the treadmill or blocking out co-workers at the office, there's no shortage of opportunities to listen to a podcast on your favorite subject.
If you've got a little more hustle than most people, you've recognized that this is an enormous opportunity to start your own podcast and maybe make a little extra cash in the process. It won't be easy, but it can definitely be done.
Getting Started: Making Your Own Podcast
We figure that a good number of people reading this blog are already active podcasters with regular listeners. If this is the case, then you'll want to skip down to the next section. For the true newbies though, here's a brief rundown on starting your own podcast.
Finding Your Niche
Look, there are already a lot of podcasts out there. When you're trying to decide on a topic for your podcast, it might seem like all the good ideas have already been taken. But this isn't a good way to think about things. Instead of trying to look outward at all of the possible topics in the universe and trying to pinpoint the one for you, look inward. What are you personally interested in? What are you passionate about? What do you already know and what can you talk about? If you're passionate about something, odds are a lot of other people are too (it's a big world). Leveraging your pre-existing interests is the best way to find a podcasting niche that will work for you.
Getting the Gear
If you're on a limited budget or not ready to make a huge investment, a simple podcast can be created with nothing more than a computer's built-in microphone and free audio recording software like Audacity. If you're serious though, there's no shortage of audio equipment to stock up on: mics, mixers, headphones, soundproofing for your studio, the list goes on.
While not strictly a piece of gear, your podcast should definitely have its own website as well.
Following Through
Now it's just a matter of recording your first episode, uploading it to podcasting channels like iTunes and the Google Play Store, and (here's the important part) following through to create quality content on a regular basis. Promote yourself, and with a lot of work and a little luck a listener base will follow.
For a more thorough guide to starting your own podcast, Lifehacker has probably the best one we've been able to find.
How to Monetize Your Podcast
If you've already got a successful podcast, you've got every right to want to make a few bucks to make up for all of your hard work. But monetizing a podcast isn't as simple as just flipping a "money" switch. So how do you get your podcast bringing in revenue? There are a few ways – none of which are mutually exclusive.
Sponsorships
Many of the most popular podcasts out there have a few sponsorships, so you're probably already familiar with this revenue model. It's basic advertising, probably the closes podcasting comes to "old media" models. Essentially, a company with a target audience that overlaps with your listeners will pay you to mention or promote their product or service in your podcast. Simple!
How do you get sponsors for your podcast? That depends. If you're really popular, odds are they'll get in touch with you. Otherwise you've got to do your own legwork.  Put together a packet with some stats about your audience size, demographics, and other data that would be relevant to advertisers. Come up with a sponsorship rate, and reach out to businesses in a niche related to your own.
Selling Merchandise
If there's one thing fans of anything love, it's merch. T-shirts, hoodies, beer koozies, pint glasses, postcards, posters and more branded with your podcast's name and logo can be a great way to bring in revenue. E-commerce is easier than ever, too, with platforms like Shopify and Cafepress meaning that you don't have to invest in upfront stock or expensive web development.
Affiliate Links
With affiliate programs, you link from your website to a third party vendor's. Any sales made through that link generate a commission for you. Amazon.com has probably the best known affiliate program, and it's used by podcasters like Earwolf Studios to bring in revenue.  Place your affiliate link on your website, and encourage your listeners to click and buy.
Blogtrepreneur.com has a good rundown of some of the best affiliate programs here.
Premium Content
Just because most podcasts are free to listeners doesn't mean that all podcasts have to be free to users. In addition to your regular content, consider creating additional "premium" content that can only be accessed behind a paywall. Bonus episodes, videos, e-books, image galleries, and more can all be utilized as premium content.
Premium Membership
As an alternative to placing specific premium content behind paywalls, you could offer your listeners an ongoing membership that grants them access to a lot of special content or benefits. Additional content, premium media, members-only newsletters, merch, and more can all be used to entice your listeners into buying a premium membership.
Monetize Your Podcast's Site with Subscription DNA
When it comes to managing paywalls, setting up memberships, and managing recurring billing, nothing makes things easier than Subscription DNA. A cloud-based platform that specializes in group enrollment, subscription management, paywall and premium content management, and automated billing, Subscription DNA has all the tools you need to start monetizing your podcast's website and a group of listeners into a community. Fill out the form below to learn more. Happy podcasting!